Home to the Ancient Greeks, this enchanted land with its fascinating history, beautiful scenery and buzzing cities makes Greece one of Europe's prime travel destinations. On top of this you have pleasant all year round temperatures (with lots of sunshine), great local food and fantastic nightlife. What isn't to like?
The mainland of Greece offers tourists unrivaled opportunities to explore the countries powerful history. Throughout the country in Greece's culturally rich cities and unique rural towns travelers can head back in time through ancient ruins and glorious temples.
But what sets Greece apart from the other great European Nations is its wealth of fabulous islands. Home to an incredible 6000 islands, (227 inhabited) nowhere else in Europe and very few places in the world provide such a vast number of islands to explore.
Island hopping has become the preferred method of travel in Greece, where you can hop on and off the Greek Islands on Ferries that will whizz you around.
Whether its laid-back island life your looking for, family beach holidays in Greece to both relax and enjoy with the kids or one the world's wildest party islands, your bound find your perfect paradise in the Greek Islands. And with prices dropping over the past few years it is a great time to visit Greece.
Planning your next travel destination? While there are plenty of Fantastic Greek Islands to choose from below are our top 5 picks!
Crete
Crete, with a population of over 600,000 residents and a size of 8,303km² is the largest Island in Greece. Crete makes the list easily since it offers so much to a wide variety of different people! From Ancient Archaeological enthusiasts to Teenage party animals Crete has plenty on offer for a diverse range of visitors.
Home to the biggest archaeological site of the bronze age, the Ancient Palace of Knossos which has the grand title of the oldest city in Europe is one of Greek islands most interesting sites! Crete also features one of the most important museums in the country The Heraklion Archaeological Museum which holds a wealth of findings from Crete's 5500 year history.
40 km from the Ancient Palace is Malia, one of Europe's most popular party resorts. Its golden sands attract thousands of young tourists from across the continent to its shores its famous nightclub. If this is not your scene fear not Crete is pretty huge for an Island and Malia makes up a very small part of it ensuring there is plenty of room everyone on the island.
Crete is also a very attractive destination for families with a combination of the perfect climate, shallow waters, sandy coves and an array of exciting activities for children. Cretes Variety of Themes Parks and Water parks are particularly popular with both children and their parents for the wide-range of activities and rides on offer. Families can be rest-assured that both the cities and beaches are safe with the area of Bali, Georgioupolis and Agia Galina particularly attractive for family holidays.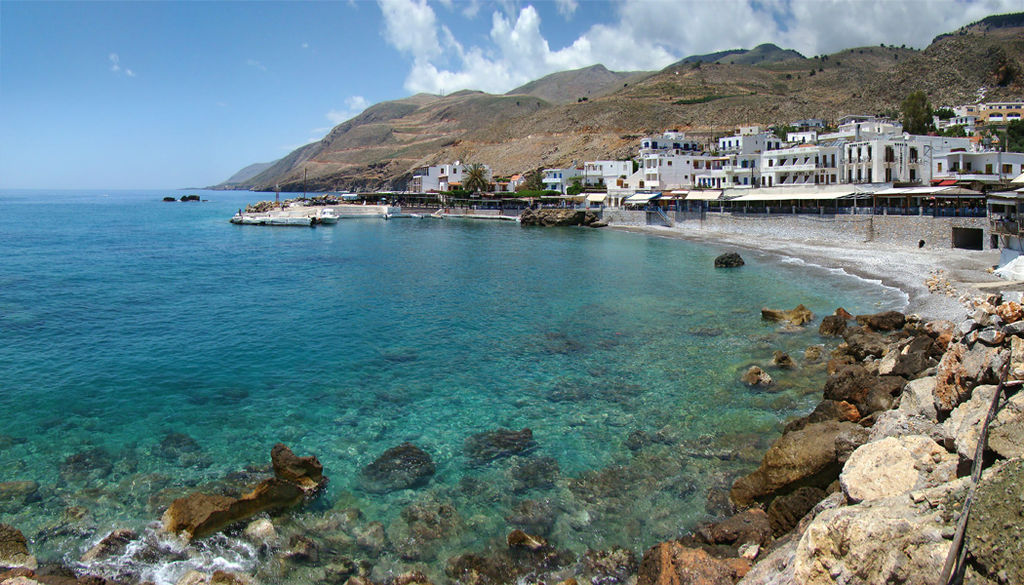 Naxos
Naxos is the greenest island in the Cyclades with some of the best beaches in Greece.
Naxos is an island that can be proud to have held on firmly to its cultural identity and way of life despite the temptation to become a tourist hotspot. Surrounding Naxos are the ultra touristy Cyclade Islands of Santorini, Mykonos and Ios. While each of these islands offer wonderful experiences for the tourists that visit, Naxos remains the most authentic.
Naxos has characteristically long sandy stretches of beach, accompanied by beautiful calm turquoise blue seas. The longest beach Kastraki is over 6 kilometres long, it is also rated one of the cleanest beaches in Greece. While not deserted, the beaches and Naxos in general offer a laid-back vibe. While there is everything you need on the island, things do not get to wild making it a perfect place to relax.
The island is one of the best places in the country to Windsurf and also offers great opportunities to snorkel and dive. Including a dive with a British World War two plane that crashed just off the waters of the island.
Mykonos
Perhaps the most famous of all the Greek islands is Mykonos. The glitziest Greek island of the Cyclades once a bohemian paradise back in the 1950's transformed itself into the Greek Islands most prestigious party town. It was also once a hot spot for gay & lesbian tourism (just ask someone in their 60's what they think of Mykonos) and while still gay-friendly Mykonos now attracts a diverse group of people from across the world  and is considered the premier beach destination for young tourists.
Paradise Beach the hotspot for who are drawn here by the fabulous weather white sandy beaches and brilliant high end nightlife. Mykonos attracts some of the biggest DJ's in the world too their Beach clubs such as Tropicana and Paradise Beach Club. Paradise Beach gets wild and is not for the faint hearted, while the island of Mykonos is open to everyone and attracts people of all ages to its luxurious beach resorts, dining and nightlife scene.

Santorini
Santorini one of the continents most idyllic travel destinations is absolutely gorgeous. The stunning white washed buildings positioned on the edges of The Volcanic Rock covered island showcasing Classic Cyclade architecture at its finest. On closer inspection travelers  can enjoy the architecture up close exploring the beautiful churches, cathedrals and chapels.
When the sun comes down every evening tourists head into the town to view Santorini's postcard perfect sunset. While sunset is a special sight, Santorini is an absolute gem of town to see anytime of day.
The white buildings with their beautiful deep blue seas background may be the main attraction but certainly not the only point of interest on this Island. With what remains of the island now a product of a Volcanic Eruption the island is entirely Volcanic rock. This makes the beaches particularly very unique. The famous red beach is a prime example with its black and red pebbles lining the shores and a steep cliff-face just above making an unusual yet impressive bay. Tourists can also head to the site of the volcano which wrecked havoc on Santorini all those years ago while the endearing hot springs are another popular attraction. For the history buffs there are both Byzantine and Venetian Castle Ruins, as well as the two famous Archaeological sites of Ancient Thera and Akrotiri.
With a great dining scene and lively nightlife Santorini is a fantastic destination for guests of all ages. Whether it's sunny days on the beach, exploring Volcanoes or Simply wandering around taking in the pure beauty of the island that interests you, Santorini will not disappoint.  This special place has a habit of leaving an impact on those that visit, while imprinting some wonderful and lasting memories.