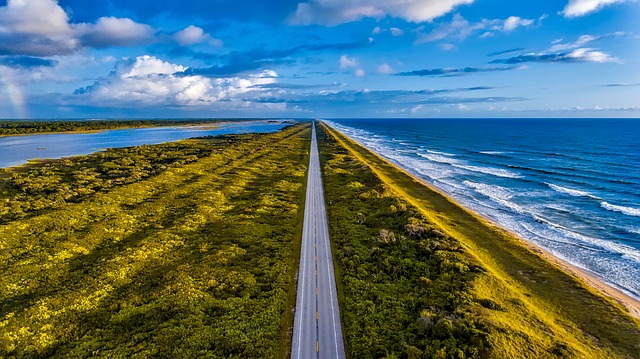 If you're looking for a great vacation but don't want to venture out of the United States this year, you'll want to take a long look at the beautiful Outer Banks area of North Carolina. As you'd expect, this area is actually a barrier island that offers lots of great choices, from dining experiences to local attractions as well as some fantastic rentals to enjoy, such as those with Elan Vacations. So let's start planning!
Shopping
If you love a good shopping session, or two, or three, you'll find lots of cute little shops lining the beach and bordered by wooden boardwalks. Within these shops you'll find local treasures, clothes, trinkets and gifts to take back home with you when you're trip is over.
The Beach Life
With over 100 miles of beautiful shoreline filled with grassy dunes and white sand beaches, you'll find lots of sand to sit down and enjoy a good book. But, if you're looking to do more than just read during your vacation, you'll find lots of other stuff to do as well. As most of the beaches differ from the next you'll find lots of variety. Some of the more popular beach activities include tanning, photography, surfing, skim boarding, wakeboarding, surfing, jogging and building sand castles. As far as photography is concerned, not only will you find lots of great scenes to shoot but also beautiful wild horses that are more picture ready than you would think. In fact, these horses are one of the main reasons people visit the Outer Banks, so make sure to have one of your cameras at the ready.
Historic Museums
You may be surprised to read this, but the Outer Banks are home to lots of different historic museums and sights to take in. Because of the rich history of the area, you'll find that seashells on the beach aren't the only thing you'll find. Here you'll learn about the first union victory during the Civil War, the first all African-American US Lifesaving Service and the first flight in Kitty Hawk.
Romance Galore
If you're the romantically inclined, then you'll find a great amount of romantic activities to partake in during your trip. Some of these include a sunset or sunrise stroll on the beach, a visit to the famed Elizabethan Gardens, a visit to Jockey's Ridge to explore the sand dunes and a drive down the Outer Banks Scenic Byway. If you're looking to take your love to the next level, you'll want to look into designing your perfect beach wedding. Honeymoons are also great here as you'll be able to enjoy a few days of rest while enjoying the sea breeze.
Though planning a trip might not be the most exciting for you, especially in comparison to actually taking the trip, you'll find that planning one to the Outer Banks, North Carolina is both easy and fun. Whether you're traveling with kids or on your honeymoon, you'll find lots of activities to partake in and enjoy, making for a memorable vacation.