Summer travel destinations aren't hard to come by, but finding those unique places for your summer vacation can be difficult! If you're looking for a fascinating, tourism friendly place, filled with history and fun things to do, then the UAE may be the destination of your dreams! However, can you really make the most out of experiences on holiday in the United Arab Emirates?
All things considered, not everyone thinks of the Middle East when it comes to a summer get away. The United Arab Emirates has an enormous amount of fun and exciting activities for the whole family. Not to mention stunning beaches along the coast of the Persian Gulf!
The UAE may not be what immediately comes to mind when it comes to your summer holiday destination, but in getting to know your options, you'll see why it makes a summer get away! So whether you're making your Hotel reservation for next week, or looking to book something for next summer, here are just some of the things you can do while on holiday in the UAE!
Beaches
The UAE has one of the most stunning coast lines in all of the middle east. Not only can you find spectacular beach resorts, but you can also find tons of water sports and activities! Whether you want to go snorkeling off the coast of Dubai, or you really want to rent a jet ski for the weekend, UAE has what you want!
Because the summer months are the hottest in middle east, with July and August seeing over 100 °F, a holiday here may seem daunting. However, it is a very dry heat! The cool waters of the Persian Gulf make your choice of summer destination well worth the trip!
Here are water activities you can find in UAE during the summer:
Snorkel
Jet Ski
Paddle Boarding
Wakeboarding
Surfing
Fishing
Paragliding
Fly boarding
Sea Kayaking
The list may seem like it goes on forever because there is so much to do! If you want to take advantage of lower summer rates, you can even Book staycations near UAE for longer days near the beach!
Indoor Activities
The heat in the Middle East may seem strange for those looking to get away for a refreshing summer holiday. However, in big cities like Abu Dhabi and Dubai, there are so many indoor activities for the whole family!
You can go Ice Skating in the Dubai Mall, see art exhibits, visit trampoline parks, see Hub Zero, or The Green Planet indoor rainforest, and so much more! The great indoors have never seemed more enticing than on your holiday in the UAE.
Not only are there extraordinarily unique places like Ski Dubai where you can go skiing inside!, but there are also places you can find anywhere else on the planet for indoor fun. From bowling alleys, to movie theaters, as well as museums and aquariums, UAE has something for everyone. So on those hot days, where not even the sea waters can't cool you down, there is still so much fun to be had.
Out After Dark
Your summer holiday in the UAE doesn't mean you have to figure out how to beat the heat of the sun! There is SO MUCH to do at night. Both in the bigger cities and even in the desert!
You can go for rides at Ferrari World in Abu Dhabi after the sun sets. Go for a Dhow dinner cruise. Even enjoy a fireworks show and a party at the famous Yas Island!
Concerts, night clubs, as well as sporting events and theatrical performances are also yours for the night! You can catch a show at a local theater, then go out to eat at any of the UAE's spectacular restaurants.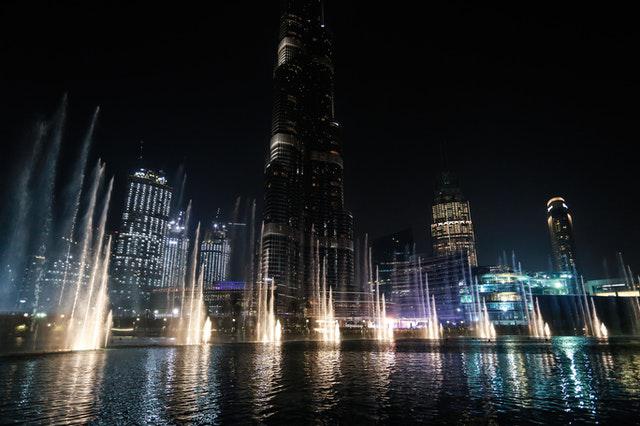 Your fun adventures don't have to be expensive, or bankrupt you either! Because you can go camping out in the desert. Not to mention moonlit walks on the beach, or enjoying many shopping centers the major cities in the UAE have to offer. There is magic in the United Arab Emirates after dark, you just have to find it!
The UAE Will be a Great Summer Destination for Your Next Holiday!
Find your way to the UAE for a fun in the sun beach holiday, some fun out after dark, and even some extraordinary indoor adventures! Don't be afraid of the temperatures in the Middle East in the summer with all of these amazing holiday activities. Find what fits you, your friends, and your family on a once in a lifetime summer vacation in the United Arab Emirates!