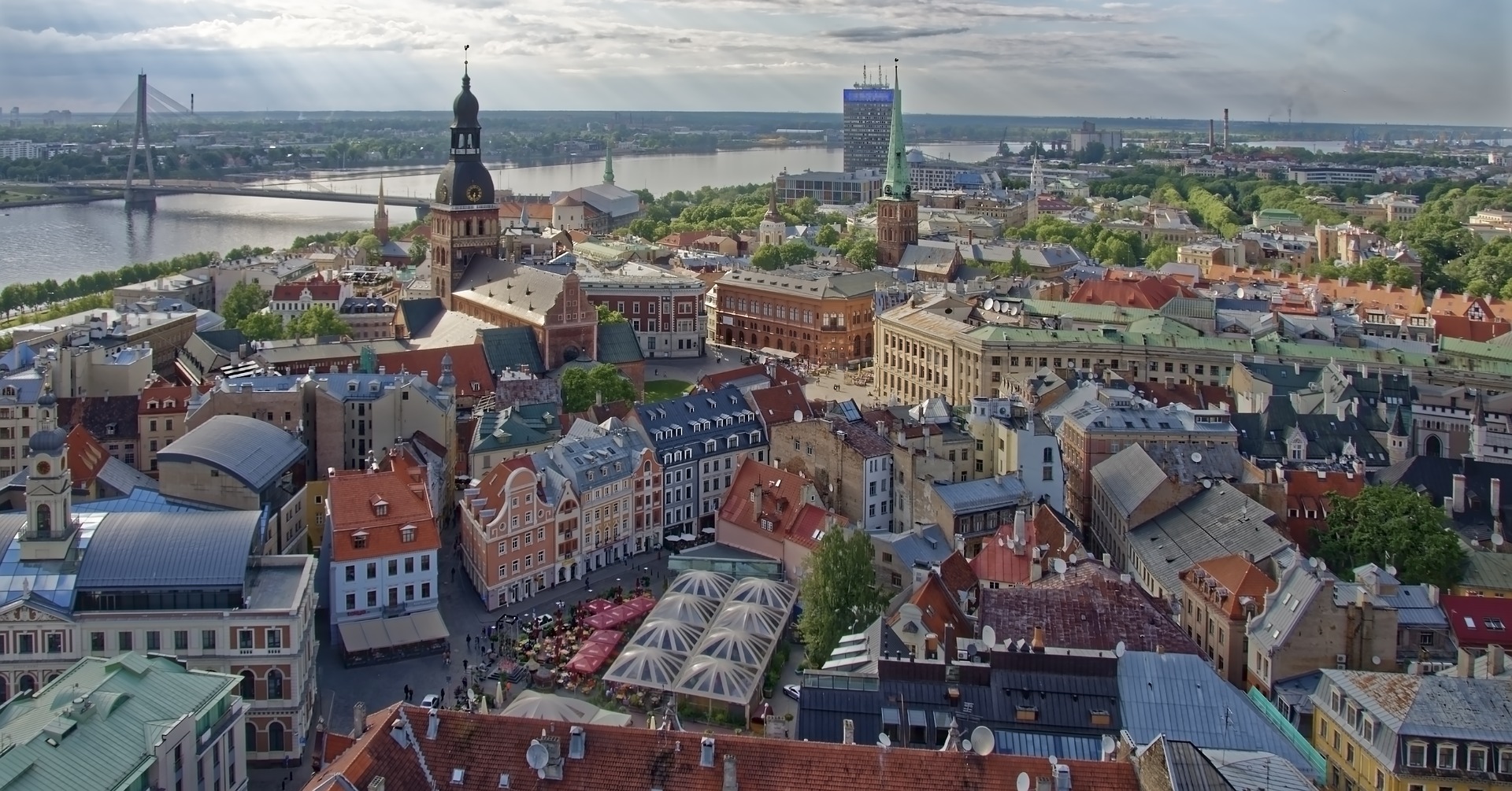 Recently, Riga was voted the 7th most interesting and exciting destination to visit in the world by TripAdvisor. Paradise destinations such as Costa Rica, Hawaii and Kenya trickle higher places but Riga sadly still remains a destination that is often forgotten. Maybe it's too close or too common? We want to challenge that picture and showcase Riga's great charm.
World-Class Youth and Art Nouveau
Thousands of satisfied bachelor groups who took a bite of provocative Rigas stag do weekends claim that next to the party circles that cities architecture is simply the greatest treat of this trip. It is difficult not to be fascinated by Riga's great architectural splendor.
With over a third of central Riga's buildings in Jugend and Art Nouveau, it is no wonder that this characteristic style dominates the cityscape and leaves a standing impression on its visitors. The eye is constantly drawn up to the decorative details that characterize this beloved and popular era in the history of architecture. Take on comfortable walking shoes and venture out into the world's most youth-tight city!
Here are the architectural gems you must not miss:
– Old Town: Vecrīga
(meaning "Old Riga" in Latvian) is perfect as a starting point if you are going to embark on a discovery tour of Jugends sign. Although the majority of the city's Art Nouveau buildings are located in the neighborhood around the Old Town, some of these houses were also built in Riga's medieval neighborhood in the early 1900s. In other words, the medieval quarter offers an interesting mix of architectural styles and eras! From the Old Town, you then proceed smoothly to both Alberta and Elizabetes street.
– Alberta Iela:
One of the most famous streets when it comes to Riga's architectural treasure, with one masterpiece after another along the entire street.
– Riga Art Nouveau Museum:
 When you are at Alberta street you have to take the opportunity to visit the famous Riga Art Nouveau Museum on the same street. Perfect for those who love Jugend and want to learn more about the famous Latvian architect Konstantīns Pēkšēns who lived here until 1907. The museum is now in his former apartment and is a real buffet of furniture, clothing and kitchen utensils from the same era.
– Elizabetes Iela:
 Alongside Alberta street is the equally famous Elizabetes street. At number 10b you will find an impressive example of early Jugend, designed by Mikhail Eisenstein and built in 1903. With luminous clear blue parts on the façade, the house really stands out, and it is easy to get caught with the eyes on the beautiful sculptural details and masks that adorn the house wall.
Enjoy Shopping Spree with Very Affordable Prices
What would be a holiday without shopping? There are shops and malls all around Riga, but the best shopping offer is clearly in the Old Town and in the center.
Here we list some of Riga's best places for shopping:
Shopping streets: The streets of Tērbatas and K. Barona are popular shopping streets with affordable shops.
Malls: In Riga, there are also a lot of shopping malls to choose from, which can be very exciting with their generous opening hours (especially on Sundays when smaller stores are closed). In the heart of the Old Town is the popular Galerija Centrs, which offers 110 shops on 29,000 square meters.
The finest-owned department store Stockmann focuses mainly on branded clothes, while  Bergs Bazaar has a slightly more luxurious range with, for example, local designers, makeup and finer restaurants.
– Art Nouveau Riga Shop
Inspired by Art Nouveau? In the shop Art Nouveau Riga, you can purchase jewelry, accessories, interiors, posters, textiles, and lamps in this characteristic style. The store is located on Strelnieku 9, amidst beautiful Jugend buildings.
Riga Central Market
Riga's Central Market is on the surface of Europe's largest market and clearly a must when visiting the city. About 80,000 visitors come here every day to find bargains among second hand, flowers, food, and delicacies, electronics, fashion, garden accessories, and some other pirate copies of numerous things. The market is housed in five old World War II zeppelin hangars and is listed as a UNESCO World Heritage Site.
Tick off the Main Sights
Although Riga has a large selection to pick and choose from, there are a handful of gems listed as an absolute must-see, whether you visit Riga for a whole week or just a couple of nights. Here we give a quick overview of Riga's unique top attractions. Go wholeheartedly into the role of curious tourist and tick off the entire list, or pick out your own favorites!
– Vecrīga, Old Town
It's an attraction in itself whether you want to be enchanted by beautiful architecture and charming cobbled streets or perhaps you are just interested in Riga's exciting history.
With its location on the Baltic Sea and the large river Daugava passing through the town, Riga was one of the richest trading cities in the Baltic Sea, often visited by Vikings and merchants in the Hanseatic League. Many of Riga's major attractions are in these neighborhoods. Sit down on a nice outdoor dining area in one of the squares and indulge in the cool environment with a good, cold Latvian beer in your hand.
– The House of the Blackheads
It is perhaps one of the Old Town's most famous houses, with its characteristic red facade and beautifully decorated door. The house was used for wild events and celebrations in the 14th century by the Blackheads who were a bunch of unmarried foreign merchants who were active in several Baltic medieval cities.
Unfortunately, the original building was destroyed by German bombs during the Second World War but it was rebuilt just in time for Riga's 800 anniversary in 2001. Today, Svarthuvuden's house is used as a museum and concert hall.
– The Occupation Museum
This building gives an important reminder of Latvia's tough past with occupations of both the Soviet Union and Nazi Germany. Here are documents, photographs and objects from the period 1940 to 1991 that testify to the inhuman living conditions that prevailed during these great powers.
– Latvian Ethnographic Open Air Museum
It's a large open-air museum located just outside Riga in rural settings. Here you literally get a historic walk with more than 100 wooden houses (churches, windmills, farmhouses) in the area that forms Latvia's four biggest cultural areas.
In Conclusion:
Riga is a perfect weekend getaway for anyone looking to indulge needs for turbulent European history and breathtaking cultural representation. In this picturesque paradise, one can shop, eat and party like never before.
With its unique set of attractions its no wonder that the city has become major tourist destination these days and you should definitely book your trip as soon as possible before this gem on the Baltics becomes overrun by hordes of tourists. Riga is calling for extraordinary moments that you will simply never forget.