Armenia is worth visiting in any season, however in summer it is in peak of its beauty – the sun is shining, the rainy days are few, the nature pleases with bright colors and the shelves are full of juicy fruits. In summer Armenian national cuisine has also many interesting offers that are really worth trying. So, today we are going to tell what dishes you should try during your summer travel to Armenia:
Zhengyalov hats
Zhengyalov hats is a traditional dish of Nagorno–Karabakh region, and it is widely spread in all the corners of Armenia. Zhengyalov hats is prepared of more than 20 kinds of herbs. The preparation is a real ceremony in which all the family members are involved. All the necessary herbs are carefully collected, washed and finely chopped. Then the dough is rolled out and filled with the mixture of herbs with salt and oil. The cake is baked on the burning hot brazier named "sadj". The tastiest is to eat it burning hot, straight from the sadj! Jengyalov hats is an easy, low-calorie but at the same time satisfying dish that will be pleasant in the summer heat.
Summer dolma
Dolma is one of the most popular Armenian dishes, which is known for its variety. There are traditional dolma and summer dolma. The first one is mainly served in cold months. They both are prepared from the same minced meat (lamb and pork, optional beef). The only difference is that the meat in traditional dolma is wrapped in grape leaves and in summer dolma it is stuffed in seasonal vegetables (tomatoes, eggplants and peppers) and wrapped in cabbage leaves. The dish turns out very bright, colorful and incredibly tasty. And the aroma that fills the kitchen during preparation is just incomparable.
Armenian barbecue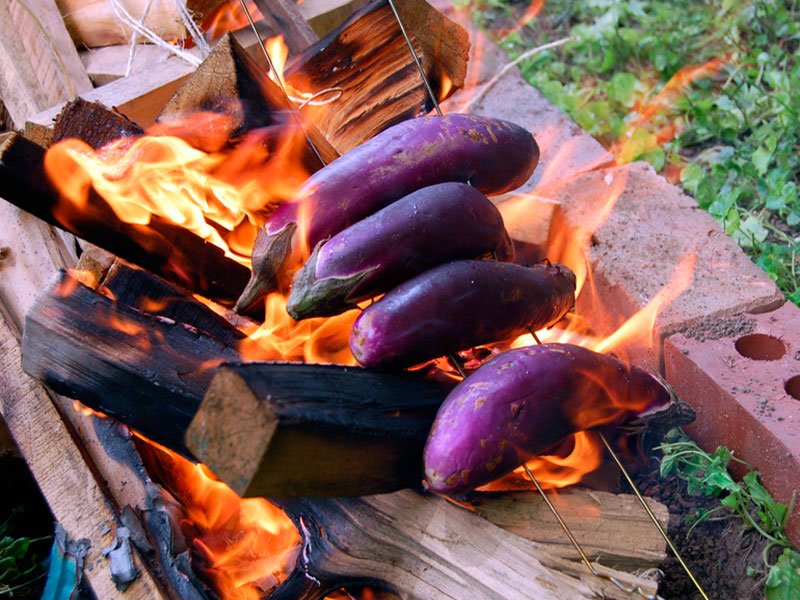 It is impossible to come to Armenia and not to try real Armenian barbecue or khorovats as locals say. Summer barbecue is much more delicious, and that's not because of meat but because of seasonal vegetables. In summer, before grilling the meat Armenians put the seasonal vegetables on fire (tomatoes, eggplants and peppers). When the vegetables are ready it is time to roast meat. The barbecued vegetables are peeled and chopped and seasoned with oil. It is a delicious garnish to juicy Armenian barbecue! By the way, Armenians also conserve the vegetable khorovats for winter. So, if you won't managed to visit Armenia in summer you can still taste this favorable dish.
Ajapsandal
This dish has a complicated exotic name, however, everything is rather simple. Ajapsandal is a simple stew of vegetables (meat can be added). Fresh vegetables are laid out in rows and stewed with fresh herbs. Ajapsandal will please vegetarians who prefer low-calorie dishes. By the way, this dish is also prepared in Georgia, however the recipe is quite different.
Tan
In summer heat it is necessary to drink plenty of fluids. In Armenia the best summer drink is tan. This refreshing drink is prepared from the national fermented milk product "matsun" which is diluted with drinking water or mineral water. Tan perfectly suits to meat dishes, helps to digest a heavy meal and quenches thirst.
Armenian okroshka
Armenians also prepare okroshka from tan. They add finely chopped cucumber, dill, and salt to it. It turns into light and refreshing dish.
Fruits! Fruits!
Finally, in Armenia, it is just impossible to pass by the shelves with colorful fruits and berries and not to buy something. We can say for sure that in Armenia grow the sweetest fruits! From June to mid-October you can enjoy seasonal fruits and berries – apricot, peach, cherry, watermelon, cantaloupe, grapes, plums, raspberries, blackberries, figs, etc…