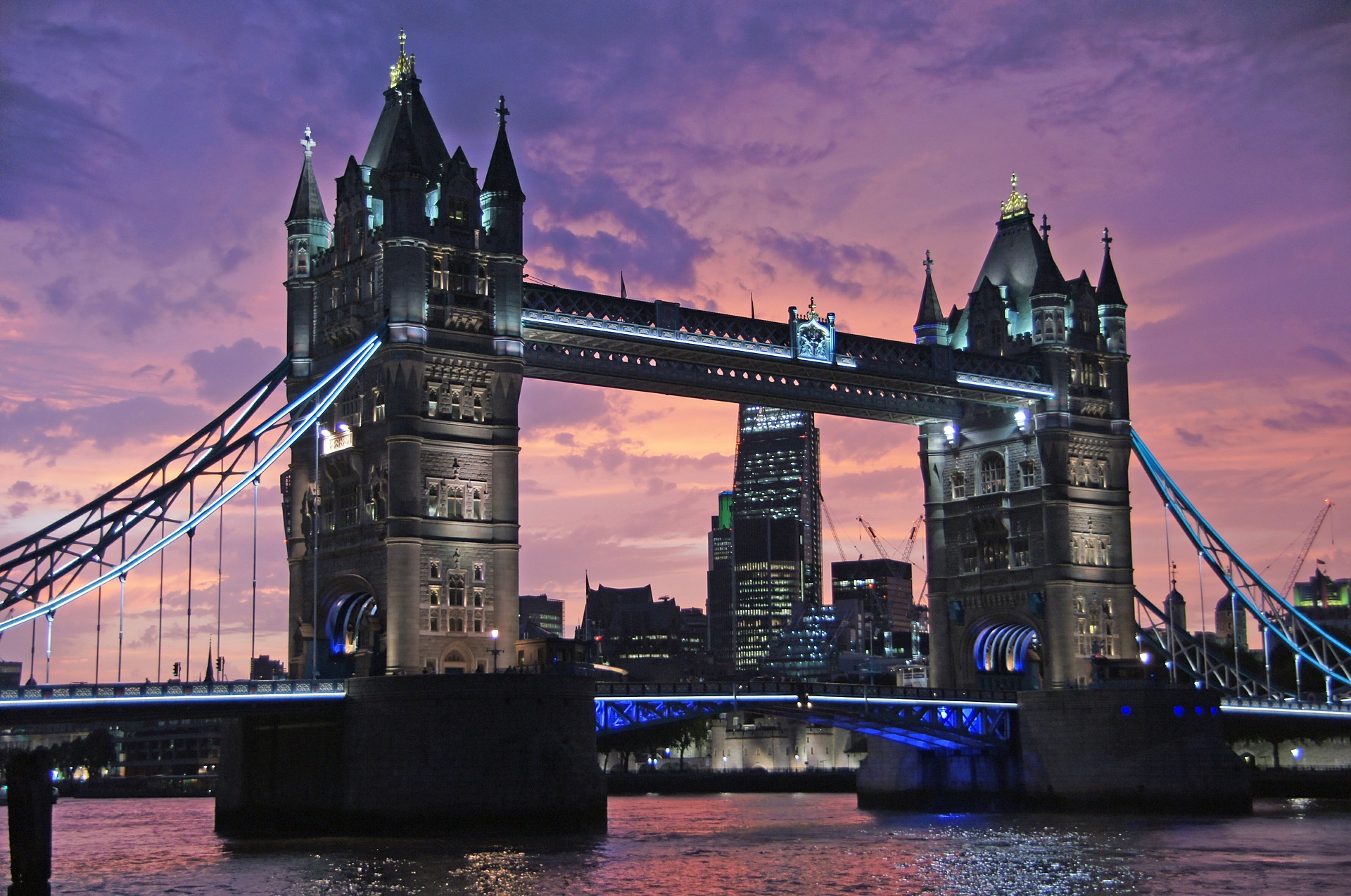 Want to explore London but changing lines on the London tube is too confusing for you? Fear not! Book your flight straight away because this guide will highlight top locations on the Jubilee Line for you to visit – let's go! 
London Bridge Station – London Bridge, Borough Market, The Shard
A short 5-minute walk from London Bridge station (Zone 1) is the famous tourist attraction: London Bridge! Symbolising London this bridge crosses over the River Thames, connecting the south and north side. If you've heard of the nursery rhyme 'London Bridge is falling down' then you'll know that it's famous for its long history and reputation for constant damage and repair. Nonetheless, London Bridge itself is now very safe to walk on (don't worry) and from the bridge itself, you can also see Tower Bridge which is within walking distance from along the River Thames!
Opening times for London Bridge:
*Open every day but the bridge itself will get busy during rush hour
There has always been the misconception that the nearest station to Borough market is Borough station – in actual fact, Borough Market is only a 5-minute walk from London Bridge station (Zone 1)! Borough Market has always been well-known for its food, organic groceries and fresh produce – there are over 100 stalls here which sell produce such as meat, fish, bread, cheese, vegetables, coffee, cakes and many more. During the more recent years, it has become the trendy hot spot for foodies due to the great variety of choice in market food; honestly, some stores are true hidden gems! Best of all, the quality of the food at this market remains highly consistent and the price is reasonable – you've got the best of both worlds! Seating areas, though not big, are available but it may be harder to find seats during lunch hour. Nonetheless, the food will blow you away so do a bit of research before you go to make the most out of your stomach space!
Opening times for Borough Market:
Monday to Thursday (from 10:00 AM to 5:00 PM)
Friday (from 10:00 AM to 6:00 PM)
Saturday (from 8:00 AM to 5:00 PM)
*closed on Sundays
*The opening times may differ for different stores, especially on public holidays, so please check before visiting
Following the exit signs from London Bridge station (Zone 1) will lead you directly to the main entrance of The Shard. Also known as the Shard of Glass, this skyscraper building is the tallest building in the UK that consists of 95 floors and is 309.6 metres tall, giving you the full breath-taking view of London. To see that view from the 72nd floor, you can choose to book tickets through their online website or try walk-in on the day. Alternatively, eating at one of the restaurants within The Shard can also give you the same experience! Eating doesn't suit you? How about a drink at the bar in one of the restaurants inside The Shard building? A top tip is to go 30 minutes before the start of sunset – this gives you both the day-view and night-view of London!
Opening times for The Shard:
Daily (from 10:00 AM to 10:00 PM)
*Opening times may differ depending on vacancies and visitors can only enter with tickets, so please check before visiting and remember to book in advance
Waterloo Station – London Eye, Southbank
The London Eye is 7 minutes away from Waterloo station (Zone 1) and is described as the landmark which represents London, other than Big Ben. It is also known as the Millennium Wheel because it was officially opened for ceremonial usage on the 31st December 1999, to celebrate and welcome the beginning of the new millennium! Only in early March 2000 was it open to the general public for tourism usage. It has now become an annual tradition for many Londoners to watch the countdown and fireworks at the London Eye on New Year's Eve. Measuring 135m in height, the London Eye gives a spectacular view of London by the River Thames – you can see the Big Ben very clearly too. In one capsule on the wheel, there can be a maximum number of 25 visitors and one full rotation takes around 30 minutes, so make sure to do your toilet-runs beforehand. To get on the London Eye, you can buy your tickets at the counter on the day you visit or book ahead of time, which is cheaper – an option to book one capsule for yourself is also available if you prefer to have more privacy.
Opening times for the London Eye:
Daily (from 10:00 AM to 6:00 PM/8:30 PM)
*The opening times vary throughout the year, especially on public holidays, so please check before visiting
Westminster Station – Big Ben, Westminster Abbey
The cultural symbol of Britain, Big Ben, is only a 1-minute walk away from Westminster station (Zone 1). The iconic clock tower is 96m tall and the clock itself was the largest in the world in the mid 19th century. Unfortunately, the tour to go inside Big Ben is reserved to UK residents only but as London's most famous landmark, a picture with this clock tower is something that you can absolutely not miss.
Opening times for Big Ben:
*Open every day but the roads will get busy during rush hour and it may currently be under renovation
Meanwhile, Westminster Abbey is a 4-minute walk away from Westminster station (Zone 1). The gothic architecturally-designed building played a significant role in British affairs and has been known as the nation's Royal Church since the 11th century. Westminster Abbey has held countless royal events in the past including coronation ceremonies of the Monarchs, royal weddings and funerals/burials of people of great importance in British history. It is globally recognised as one of the most famous religious buildings and is a top tourist attraction spot. Tickets can be bought online to save you from long queues, or it can also be bought at the door – if you have the London pass, this should be included in the package (do double check to be safe).
Opening times for Westminster Abbey:
Monday to Saturday (from 9:30 AM to 3:30 PM) [closes at 6:00 PM on Wednesdays] 
*On Sundays and religious holidays the Abbey is open for worship purposes only, so please check before visiting
I'm sure you would like to make the most out of your days to explore London, so to make things easier here is information regarding the first and last tube times, and specifically for the Jubilee Line. There's no time to waste – book your flight ticket from Sydney to London now!